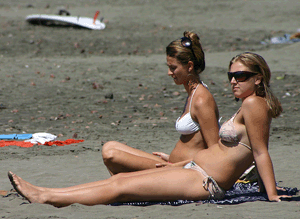 Jaco's black sand beach sure does not stop the sun-worshipers
Costa Rica's awesome and calendared coast offers something for everyone. Golden sand beaches, gray sand beaches, black sand beaches, and  pink sand beaches can be found dotted all along Costa Rica's lush coastal plains, making it a truly spectacular beach destination. Costa Rica boasts some of the top beaches in the world.
Although black sand beaches are generally less known than their white sand beach  counterparts, if you are looking to change things up a bit from the typical tropical  vacation, they can be a wonderful alternative.
Black sand beaches are volcanic in origin and are formed very differently from their white sand counterparts which are coral in  origin. Therefore the grain size and color of the sand vary, even on the same stretch of  beach.  Lava, erupting onto a shallow sea floor or flowing into the sea from land, may cool so rapidly that it shatters into sand and rubble. The result is the production of huge amounts of fragmented volcanic debris.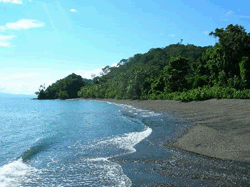 Golfitos black sand beaches are some of the most secluded, the jungle goes right to the edge of the water in many places.
The famous "black sand" beaches of Hawaii, such as Punaluu Black Sand Beach, were created virtually instantaneously by the violent interaction between hot lava and sea water. Costa Rica is no different than Hawaii, a country that has over 200 identifiable volcanic formations.  However, only 100 or so show any signs of volcanic activity, while just five are classified as active volcanoes.
Black sand beaches are becoming more and more popular, particularly among travelers who are  looking for an experience off the beaten path and ecotourism enthusiasts.
Costa Rica best known black sand beaches.
The northwest Pacific region where Tamarindo is located has many black or gray sand beaches.

Coco Beach – 36 km from the city of Liberia has Dark sand beach.
Ocotal – 3 km south of Coco Beach has White and gray sand beaches.
Pan de Azúcar – 75 km of the city of Santa Cruz, has dark gray sand beach.
Flamingo – 1.15 hour from the city of Liberia has is black sand beach and is a big tourist town.
Brasilito –  55 km NW of the city of Santa Cruz, Guanacaste has dark silvery grayish sand.
Tamarindo –  1 km south of Grande Beach has Brownish sand.
Witches Rock – famous surfing spot is off the gray sand beach of Playa Naranjo.
Langosta –  3 km south of Tamarindo Beach, Guanacaste has Brownish sand.
Portete Beach – at Port Limon where bathing is possible. Nice safe small dark sand beach with smooth clear waters.
Cahuita Black Beach – Known as Playa Negra because of its dark black sand is about 5 kms to the south of Playa Avellanas.
From Puntarenas, and heading South is where most of the black or dark sand beach are Jaco, Golfito and Quepos all have black and/or grayish sand beaches.